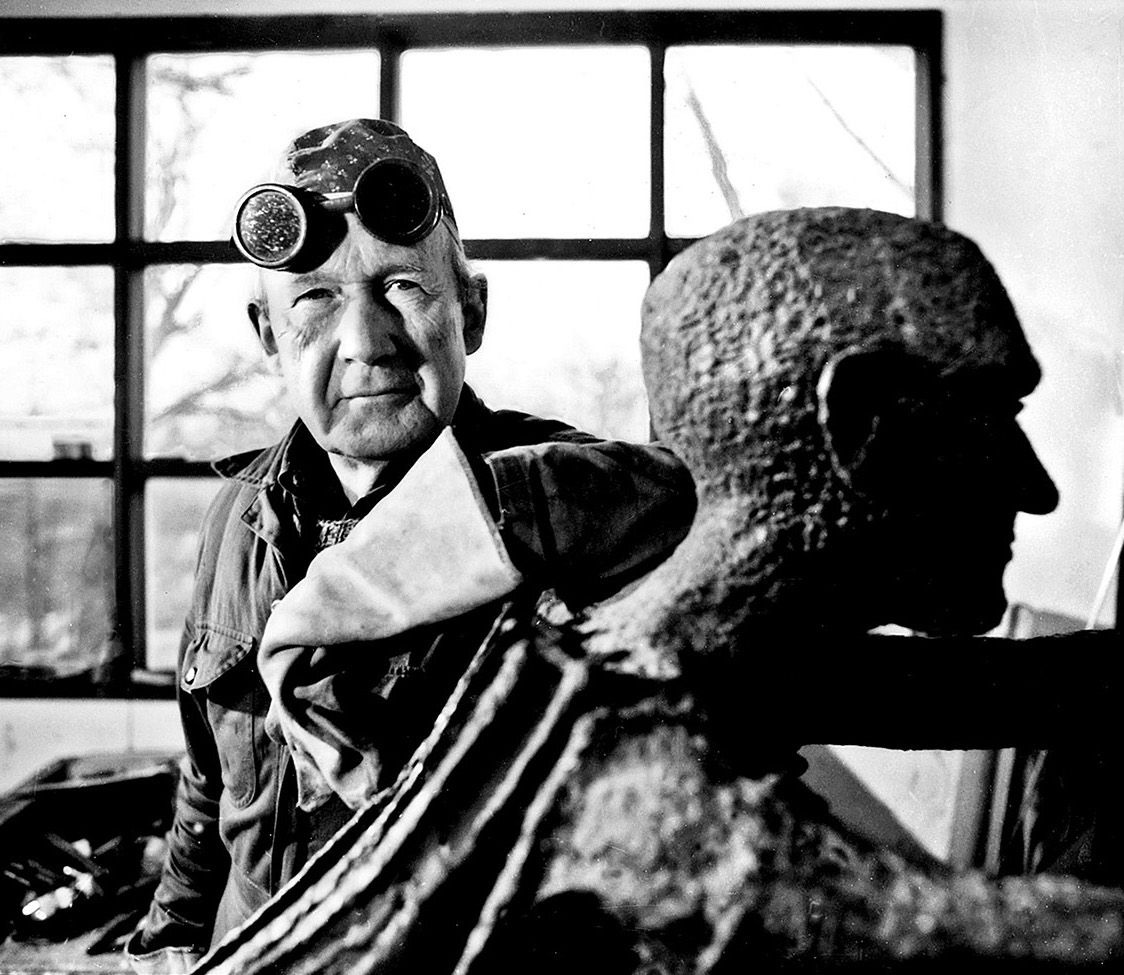 George Wallace – Sculptor, Printmaker, Painter and Teacher
This website contains a representative selection of a large body of art by George Wallace spanning over 70 years.  The work presented here aims to advance public awareness of his art since his death in 2009.  Most of all it is hoped that viewers will discover and enjoy Wallace's artistic vision.
Life and career
George Wallace (1920-2009) is probably best remembered as a teacher and artist. He was born in 1920 at Sandycove south of Dublin, Ireland, and grew up nearby in Dalkey.  Educated at St. Columba's College, he went on to read philosophy at Trinity College, Dublin (1939-44).  On leaving Ireland after the war with his wife Margaret Howe, he held a temporary teaching post at Radley College in England, and continued his studies at the West of England College of Art in Bristol.  For the next eight years with a growing family, he taught at the Falmouth School of Art in Cornwall.  In 1957 he emigrated to Canada, where he taught at Ryerson Polytechnic, Toronto, and Blakelock High School, Oakville, before moving to McMaster University in Hamilton, Ontario.
Wallace taught at the Department of Fine Art from 1960 to 1985, at an exciting time of growth in the liberal arts.  He developed the studio arts program, having a profound influence on the young artists of that generation.  His large, public, welded steel sculptures from that time reflect Hamilton's "Steel City" image and may be seen at McMaster University, Mohawk College, the Art Gallery of Hamilton, the Jewish Community Centre, the MacDonald Stewart Art Centre in Guelph, the Burlington Central Library, and at the Halton County Court House.  He was also instrumental in building McMaster University's art collection with a particular focus on the German Expressionist movement.
On retirement from the university in 1985 George and Margaret moved to Victoria, British Columbia.  Throughout this prolific period of his life he continued to make sculpture, paintings, prints and drawings, exploring a large variety of media.  He researched historical techniques, and as an acknowledged expert in the history of printmaking, curated several travelling exhibitions of prints from his personal collection.
Artistic inspiration
George Wallace was a significant artist, and although he was somewhat indifferent to commercial success he deserves a larger audience.  His art speaks to us of the human condition.  Wallace was a great observer of life; we see our struggles, loves and spiritual desires in his work.  The biblical figurative subjects often deal with death and man's vulnerabilities.  In his abstract work we see a strange beauty in the man-made destruction of natural landscapes.  At the same time he can poke fun at society's pretences and foibles in his later satirical work.  At his most expressive in the monotype prints, he invites us to interpret the faces of dubious businessmen or disillusioned lovers, and when we examine the theatrical bronze heads of the Commedia del'arte characters their role-playing personalities are cleverly revealed.  George Wallace's gift is to show us the humanity in our weaknesses.